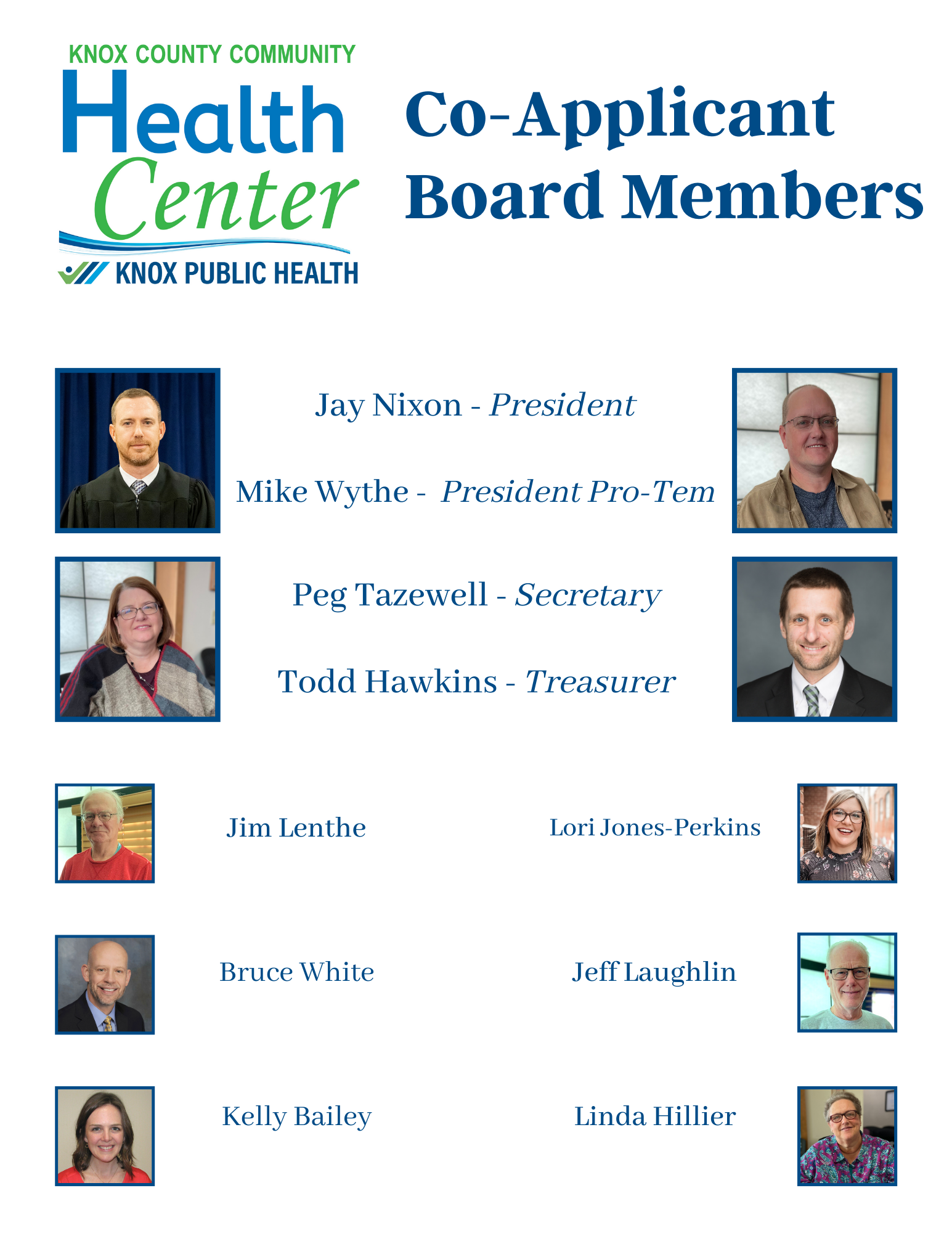 Why do you have Board Members?
A governing body is mandatory for every health center in that nation that is funded by the Health Resources & Services Administration. As a federally qualified health center (FQHC), the Knox County Community Health Center is governed by a board consisting of at least 51% consumers of the health center (our patients). This stipulation is not only mandatory, but very important to us as a Center, because we know we can provide the best care only when we are receiving direction from our community and the patients we serve. 
What is a Co-Applicant Board?
Since the Knox County Community Health Center is a branch of Knox Public Health, it has to meet the needs, goals, and regulations of both the health department's board and the board of the Center. The term "Co-" indicates that business functions are decided upon by the Health Center Co-Applicant board members and then approved for implementation by the health department's Board of Health. This relationship between FQHC and public health agency is unique to only a small fraction of health centers in the country. 
Want to become a Board Member?
We are always excited to bring aboard new board members! Community Members are invited to attend monthly meetings. During these meetings, community participation is encouraged and guests are given opportunities to introduce themselves and share comments, questions, or concerns with the Co-Applicant Board. Meetings take place in the Knox Public Health Conference Room on the third Wednesday of the month starting at 11:30 am. If interested, you can meet with our CEO and receive information to share more in-depth details about the organization and operation of the Health Center. From here, the Co-Applicant Board will vote to approve the addition of you as a Board Member! To learn more about becoming a board member or to share your interest in the board, please contact the Administrative Assistant to the CEO at 740-392-2200 ext. 2271.
2023 Co-Applicant Board Meeting Schedule
Third Thursday of each month starting at 11:30 am in the Conference Room at Knox Public Health
January 19, 2023
February 16, 2023
March 16, 2023
April 20, 2023
May 18, 2023
June 21, 2023    *Starting in June, the monthly meetings will be on the third WEDNESDAY of each month
July 19, 2023
August 16, 2023
September 20, 2023
October 18, 2023
November 15, 2023
December 20, 2023
During the April 2021 Co-Applicant Board meeting, the group adopted a Health Inequity Statement. This statement recognizes current local inequities and therefore by adopting the statement, the Co-Applicant Board brings forth their commitment to work toward the resolution of these inequities by providing the most equitable practices in healthcare accessibility and treatment. Read the full statement HERE.